Champion of the English Square Piano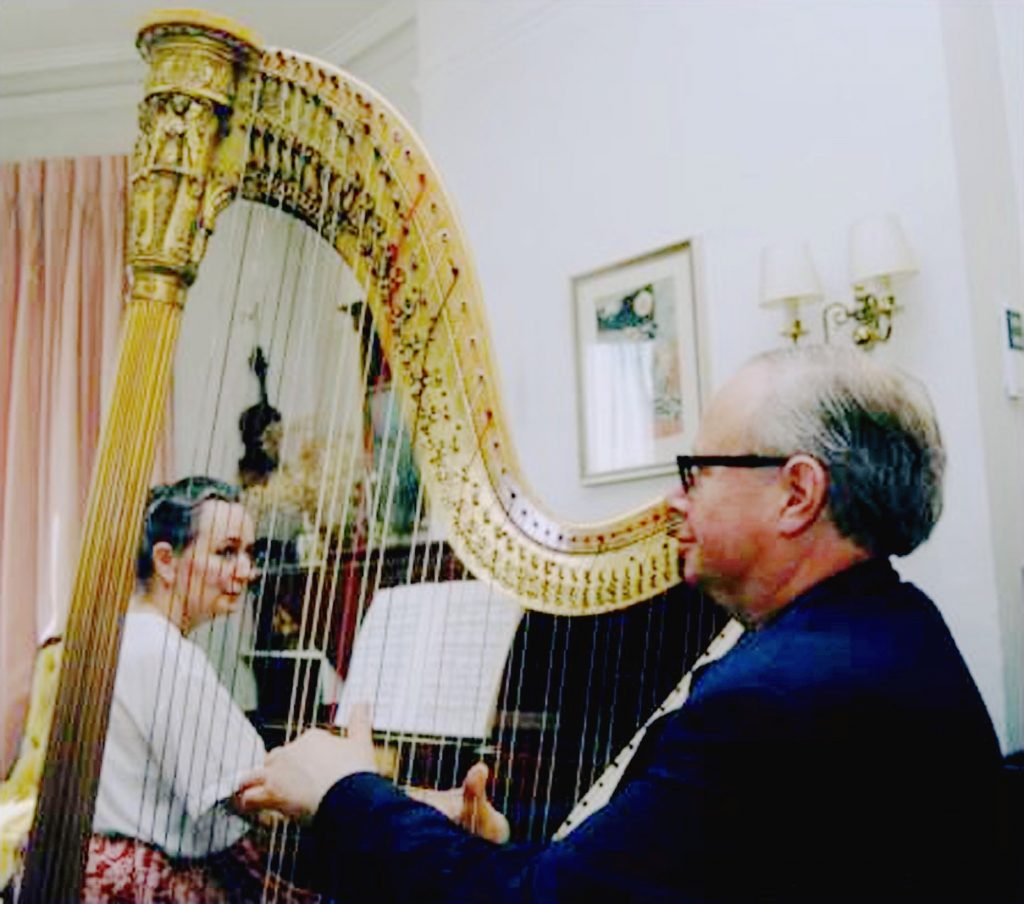 Derek Bell (of Chieftains fame), in a letter to Joanna, writing in connection with their Dussek Erard Harp and Square Piano recording:
"There is not another pianist in the world who could possibly get such a full range of free expression out of a rickety piano or fortepiano as your good self! You are rightly the star of the whole record, which would not have been possible without Mike's microphone placing, and your brilliant 'sly' editing! The "pathetic" parts of the Sonata are ravishing in sheer beauty of phrasing and tone, and the wild passionate bits are wonderfully strong and frightening at times. The upward scales are immaculate and the awkward syncopation in the finale, is spot on and very exciting. The sheer feeling behind all your playing is riveting, that never can one stop listening to it – the whole way through. It's magnetic! I ought to have some lessons from you, but I don't think what I most admire and covet in your marvellous playing could be imparted!!"
Joanna (talking with Andrew Lancaster):
"Well Andrew, you completely changed my life, with the square pianos. You asked me down to Guildford to play the Broadwood you had on show. I thought it would be rather fun to have one, but I hadn't thought of recording on it at that stage. I remember I sat down and played this wonderful Broadwood you had just restored and I felt, this is my instrument!"
In a dream Jo had had previously about an early piano, she said, "I sat down and music just flowed out of my fingers as I played, and I felt so happy; the piano just opened its heart to me and poured out all this wonderful music which I played. I felt so happy playing it."
"Now when I came to Guildford and sat at that piano, I had the same feeling as in that dream. I immediately said, Please, please find me another piano like this'" Joanna was captivated by the charm and delicacy of the sound, the lightness of touch, and the unique vocal conversational characteristics of these pianos. She performed exquisitely on them and made them available as CDs. Joanna recorded quite a wide range of music; some specifically written for these pianos and other music regularly performed on square pianos during the early 1800s – an amazing period of frenzied square piano development and manufacture in England – when 'anybody who was anyone' had a 'square' in the home.
Squares – How it started
(with musical examples)
Joanna talks to Andrew Lancaster

More Square Talk 
(with musical examples)
Joanna talks to Andrew Lancaster

In 1988 Joanna met Andrew Lancaster, a restorer of English Square Pianos (1780-1835). It was a meeting that was to change her life and gave her the opportunity to play these beautifully restored instruments when Andrew was exhibiting at Antiques Fairs. Although a life-time user of her beloved Steinway, Joanna found in these restored 'squares' a special resonance that seemed to open up a connection and a deeper insight into composers of the period who, having similar instruments on which they composed, would have heard their music differently from the modern Steinway. 
Peter Katin was fascinated and enthused when he heard some of the first recordings – the John Field Nocturnes. He recorded four square piano CDs for Athene – produced and edited by Joanna. Peter gave Joanna a completely free hand when it came to editing. In the process, together with Joanna, bringing these period pianos to the attention of a world-wide public in a way hardly done before.
Joanna playing an Astor piano c.1800 at a recital in Arundel
Haydn: Sonata in E flat (excerpt) (23002)

Haydn & Inconsolable Grief
Joanna tells how when Haydn was composing the F minor Variations, that towards the end of the composition he heard that his dear friend – Maria Anna von Gensinger, the wife of the doctor to Prince Esterházy – had died. "Towards the end of this piece you suddenly get the grief and tearing out of hair in a terrible kind of feeling of loss, that comes out very strongly and I do identify with that."
"When I recorded it I wasn't particularly aware of any emotions. I was more concerned with getting the music as I heard it and felt it. After David died, I played it again: it was out on CD and I couldn't believe how deeply it expressed what I was feeling. And I thought to myself that Haydn knew just what it was like to look into the abyss of deep inconsolable grief. Really that piece, at the end, is more close to my feelings; that and the Janáček Sonata which I also have recorded. When I first heard my own recording of it – I fished it out sometime after Dave died – I just wept and wept; it seemed to express what I felt."
Haydn: finale F minor Variations 
(Stodart 1823)  
Read Articles on Square Pianos and performance
by Andrew and Joanna
Here are five squares (three that were in Joanna's collection and a Broadwood and an Astor loaned for a recording. (Also a 1727 Thomas Barton Spinet that was passing through – for comparison with the squares of 60-100 years later).
The Audio player:
The volume can be adjusted and muted using the up and down cursor keys. Note that this will affect any other piece that is partway through. The current piece playing will be paused automatically if another is started.
Soler: Sonata 90 in F sharp minor (23003)

A recording of the L&B using the Lute Stop
Handel: Keyboard Suite No 1 in B flat minor (23926)

VIDEO CLIP:  Interview with a Vampire – the square piano segments
(With acknowledgement to Griffin Pictures)
On hearing the Haydn Sonata in E flat and the Soler, Sonata No.90, George Fenton said that "this is exactly what I want for the film music I am doing". The artists were given a disc of the pieces and practised getting fingering as correct as possible. George still had to rewrite bits for the Haydn to be convincing with the actual filmed hand movements. Joanna, who had long since programmed herself to play the piece how Haydn had written it, found it a challenge to play it 'wrong' for the film. As was her way when getting things wrong during practice, contrarywise she furiously swore at herself when she kept doing it 'right' (to hear the Haydn correctly, play CD 23002 Haydn Variations in F minor; to hear the Soler, play the Stodart piano track).
Square Piano Discography – Joanna Leach & Peter Katin
These sample tracks are mp3 format. For full CD quality, track lists, reviews, CDs and downloads,
click the CD image to link to
DIVINE ART RECORDINGS GROUP
.