Record Producer & Sponsor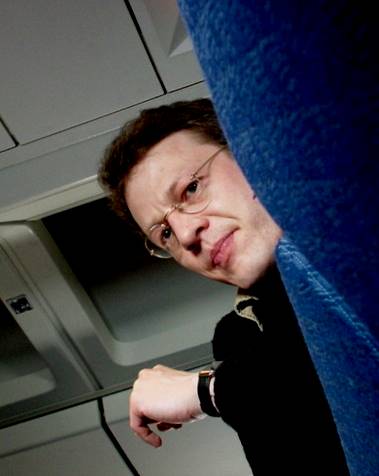 Andreas Boyde:
"In works that were new to me, or even some works that I had performed for years, I realised something quite amazing: your musical advice was extraordinary. I think it is something that you might call intuition or a certain form of instinct, inspiration."
Martino Tirimo:
"After an initial Piano Encores recording, the opportunity arose to work on Debussy's complete works. This was a project which was close to my heart, but it was also close to Jo's heart for she played quite a number of these works and thus knew them intimately. This cannot be said for too many producers! Her deep knowledge meant that we could have detailed discussions, even during the sessions, and this was most stimulating for me. Throughout these recordings, sessions and post-production, her expertise and wonderfully positive attitude much contributed to the final result and the consequent success of this project. It was a happy collaboration that I treasure greatly."
Bernard d'Ascoli:
"No, it was wonderful working with you. I certainly got more than I expected. It was always understood from within, because you just know the music more than anybody else – and Chopin in particular. It was something – we just didn't have to say – you understood what I preferred; why I preferred it and you understood why it was important to edit before the change of pedal or just after; it was great."
Setting up the Athene Minerva record label
Athene Minerva - Setting up the record label
Schumann: Carnaval, Waldszenen & Album für die Jugend (23008)
Play sample track:  
Papillons, Valse allemande – Paganini
Recording Artistes Discography
"Pictures & Reflections"
Mussorgsky: Pictures at an Exhibition
Ravel: Miroirs
(CD 23017)
Music on the Web
Mussorgsky: "From the very first notes of the Mussorgsky I knew that this was going to be an exceptional performance. I was proved to be right. The clarity of the playing was crisp and well articulated and, what was so refreshing and welcome, was the pianist's excellent judgement of tempi… The skill and technique is undeniable and, although I have known this inspiring work for 40 years the detail that Boyde reveals is quite astonishing as are the superlative nuances he achieves."
Ravel: "Any artiste that can convey that level of communication coupled with such consummate skill and breathtaking ability is destined to become famous and rightly so. He is already a brilliant star. His command of the piano is staggering!"
Play sample tracks:
Mussorgsky: Baba Yaga
Ravel: Une barque sur l'Ocean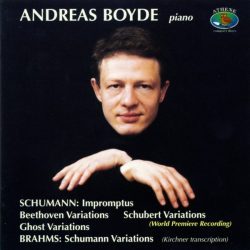 Schumann: Impromptus and Variations
Brahms: Schumann Variations
(CD 23023)
Music on the Web
"This is an important disc as it includes the world première recording of Robert Schumann's Variations on a theme of Schubert reconstructed from manuscripts by the pianist on this recording, Andreas Boyde.
Boyde is a fine player. We have heard his virtuosic power in the Tchaikovsky Piano Concerto No 2 and Ravel's Miroirs but he has a remarkable gift for sensitivity as well, as shown in this disc. He has a tremendous insight and the Brahms performance gives a rare satisfaction."
Leipziger Volkszeitung
"…one of the most impressive recordings of the piano music by Robert Schumann."
Play sample tracks:
Schumann: "Beethoven Variations" (excerpt)
Schumann: "Ghost Variations"
(excerpt)
Outstanding Concert Performance series
Tchaikovsky: Piano Concerto No.2
Shostakovitch: Symphony No.9
(CD 23016)
MusicWeb International
"Boyde makes detail come to life; he has an amazing capacity to build up long piano solos thereby making them full of interest. His cadenzas are breathtaking and the clarity of his finger work is stunning. And, thankfully, he is not a barnstorming, glamorous, athletic performer, although he generates tremendous excitement. He has enviable lyrical gifts and I have to say that, bearing in mind that this is a public performance (where one does not get a 'second chance'), it is very impressive indeed. The orchestra and conductor must also be congratulated".
Fanfare
"…one of the best interpretations I have heard. It is a fabulous performance" – Martin Anderson
Play sample track:
Tchaikovsky: 1st Movement (Cadenza)
Freiburg Symphony Orchestra – Joannes Fritzsche
Dvořák: Piano Concerto in G minor
Schoenfield: "Four Parables"
(CD 23021)
BBC Music Magazine
Picked on release as the Reader Offer disc.
Time Out Magazine
"Seasonal Selection" – December 1999
Music on the Web
"Andreas Boyde's performance is both very exciting and gloriously effective. His technique is unquestionable and now we have evidence of a true lyricism. He is a pianist with steel fingers and a warm heart.. Every bit a complete musician… As for the piano playing, one can only exclaim astonishment and admiration. It is a sensational success. The recording is exemplary."
Hi-Fi News & Record Review
Dvořák Piano Concerto: "…a most moving performance."
Four Parables: "Boyde's interpretation is breathtaking."
Play sample tracks:
Dvořák: 3rd Movement (finale)
Schoenfield: "Dog Heaven"
(excerpt)
Andreas Boyde In Concert
Joanna Leach Memorial Concert
Honiton, 29th September 2012
Audience Comments:
"Amazing musicianship, superb technique and every note profoundly felt"
"Absolutely breathtaking, a superlative player and such a nice person"
"Completely transported…. the Mussorgsky hit me between the eyes"
"Every note lived, moved and breathed"
"Wonderful, and delightful programme notes"
"I was captivated, taken to another dimension"
"Oblivious to his surroundings, every note, every rest, inflection and nuance had significance and meaning."
"A breathtaking piano too, I had forgotten just how much difference a superb instrument makes!"
At this concert Andreas played:
Mussorgsky: "Pictures at an Exhibition"
and Ravel: "Miroirs"
see CD 23017 "Pictures & Reflections" above.
Commission sponsored by Joanna
In 1999 Joanna commissioned John Pickard to write a concerto for Andreas Boyde, to be performed in a Millenium 2000 concert. It was given its first performance in the Dresden Kulturpalast to a packed audience and broadcast nationwide across Germany and beyond.
Although enthusiastically received at its first performance, the piano part was at times overwhelmed in the concert hall. However the broadcast balance was able to compensate and bring out the piano part with spot microphones.
Sadly, the composer withheld permission for the recording to be released on the Athene Minerva label because of a minor mishap in the percussion section at the end of the work.
There is much to be said for the excitement and spontaneity of that immense first public performance; which would not have happened but for Joanna's generous commission and the support of Andreas (and the Dresden Sinfoniker), who spent several months preparing for this performance.
Play the complete Premiére performance::
Pickard: Piano Concerto
(i. Toccatta) & (ii. Passacaglia) 
Pickard: Piano Concerto

(iii. Fuga)
Havergal Brian:
Complete Piano Works
(CD 23012)
Music on the Web
"This is very impressive music with a power, poetry and swing which should guarantee it a great deal of attention. The music is warmly rewarding to the attentive listener. Congratulations to Athene for securing the recording." – Rob Barnett
BBC Music
"…dedication and virtuosic flair …First-rate recording: an excellent disc." – Calum MacDonald
Gramophone
"I rather wish I hadn't heard the Illuminations, grateful though I am to have encountered the two noble Preludes and Fugues. Formidable performances (even of the Double Fugue, which ideally needs at least three hands), and well recorded." – Michael Olivier
Play sample track:  
Brian: Prelude – John Dowland's Fancy

William Mathias: Sonatas No 1 & 2
John Pickard: Sonata & "A Starlit Dome"
(CD 24111)
Tempo
"It is seriousness of purpose that informs both of his [John Pickard's] piano pieces included in Raymond Clarke's latest CD for Athene … Clarke – the Sonata's dedicatee – plays both magnificently, as he does the two fine sonatas […]" – Guy Rickards
Fanfare
"This CD is almost unthinkable without [Clarke's] expertise and persistence; the rhythms have to be acutely etched to keep the high-strung tensions tight and rewarding. Clarke is the man here." – Stephen Ellis
Classic CD
"brilliantly played by Raymond Clarke, a pianist who combines an emotional commitment to the music with a prodigious technique. The whole disc is enthralling… music-making of the first order … Intelligent and passionate music performed with great insight." – Roderick Swanston
Play sample track:  
Pickard: "A Starlit Dome"

Shostakovitch:
Sonatas 1 & 2
Prelude & Fugue in D minor
24 Preludes
(CD 23018)
Music on the Web
"I have heard Shostakovich played by a myriad of pianists, including the 'famous names', but, after hearing Raymond Clarke's performances, they can all be relegated into the second division.
The recording sound is brilliant, close, vibrant and it has a very exciting attack. The performances are legendary and superlative. I do not want to hear anyone else play these pieces again. These are the definitive versions.
I hesitate to say any more since I am limited as to what adjectives I can use to describe that which is of the highest quality.
I cannot evince the quality of this disc. All I can do is quote the Swiss composer Frank Martin when he said, 'Some music and performances are far beyond what words can ever convey'." – David Wright
Music & Musicians
"Tremendous panache… a marathon all Shostakovitch recital… Raymond Clarke is a pianistic force to be reckoned with, possessing an appetite for big projects and carrying them through with great musicality, fluid technique, and an attention to detail and delicacy not always associated with artists who think big." – John Amis
Play sample track:
Shostakovitch: Preludes 5 & 6

Szymanovsky:
Sonatas 1, 2, and 3
Prelude & Fugue in C sharp minor
(CD 23019)
Mike Beville recalls:
"The launch of the Szymonovski CD was coupled with the publication of a book about the composer. It was held at the Polish Cultural Centre. We planned to play the 3rd Sonata from the CD. But the sound system was so poor that I felt obliged to announce that it was not doing justice to the recording."
At this point, a frustrated Raymond sitting at the back of the room, leaped to his feet and with his head swaddled in bandages [as a result of his accident], this mummified looking figure marched to the front, sat at the piano and promptly played an incredible rendering of this technically very difficult work, to great applause! It was quite extraordinary to witness, and Raymond's bravura literally saved the day.
Music & Musicians
"Raymond Clarke's account of Szymanowski's Third Piano Sonata is a tour de force. It is music of enormous complexity, clarified in this performance by the pianist's complete assimilation of its difficulties; four linked movements unfolding in a clear coherent structure and bringing a notable recital to a triumphant conclusion," – Peter Graham Wolf
Play sample track:
Szymanovsky: Finale Piano Sonata No.3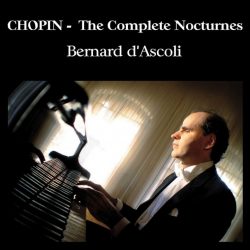 Chopin:
The Complete Nocturnes
(CD 23201)
Gramophone:
EDITOR'S CHOICE MARCH 2006
"D'Ascoli announces himself as a top-flight pianist.This ranks among the most remarkable of Chopin Nocturne recordings… performances of a living, breathing presence. The recordings are vivid and immediate. A revelatory, probing disc… d'Ascoli announces himself as a top-flight pianist" – Bryce Morrison
BBC Music
"…deeply probing, exploratory, performances… bold… persuasive… compelling. His rubato… makes his Chopin alive and self-renewing." – Tim Parry
Piano Magazine
"This superb double CD presents Chopin by a pianist of astonishing skill and musicianship … Bernard d'Ascoli's interpretation of the Nocturnes is full of feeling, drama and serenity, demonstrating his genuine love for the music."
Play sample track:
Chopin: Nocturne in C sharp minor 

Chopin:
Impromptus & Scherzi
(CD 23024)
American Record Guide
"Impressive sound, fine technique, and unfailing musical values." – Alan Becker
International Record Review
"D'Ascoli has a sound that is clear, liquescent and very appropriate to Chopin. He is a pianist who sounds at one with the instrument, and conveys the feeling that this really is his music. This release is of considerable interest… whose totality upholds the distinction of its individual parts."
Musical Opinion
"…a fascinating and stimulating experience…assured and brilliant technique and a natural sense of poetry and sound. A joy to hear."
Play sample track:
Chopin: Impromptu No 1 in A flat

Bernard d'Ascoli In Concert
Joanna Leach Memorial Concert
Axminster, 3rd November 2012
Audience comments
"A superb evening, the quality of his playing was quite lovely."
"Exquisite, such sensitivity and so expressive!"
"A wonderful player. His technique and musicality serves the music; putting the composer first, it is Debussy played by Bernard d'Ascoli, not d'Ascoli plays Debussy!"
and
"A quite extraordinary, very moving evening and very very special."
"I found myself needing to close my eyes to listen with no distractions, sharing his world of darkness. Because of his lack of vision, sound and touch are his world."
Stephan Loges (baritone) with Alexander Schmalzc (piano)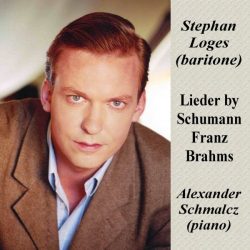 Schumann: Dichterliebe & Four Songs
Franz: Six Songs
Brahms: Three Songs & Five Songs
(CD 23202)
Musical Opinion
"Exceptional performances, excellent recordings.. beautifully presented account of Dichterliebe… Robert Franz settings…each an individual vocal jewel." – Denby Richards
American Record Guide
"[Loges' singing quality] is very beautiful… Alexander Schmalcz is a very fine accompanist. This is a great release all round."
International Record Review
"A consistent, thought-through interpretation … Loges and his admirable partner are beautifully recorded … [a] stimulating recital." – Piers Burton-Page
MusicWeb
"Loges is a sensitive interpreter, beautifully recorded with a warm toned piano behind him – his hushed singing of the second stanza of [the Brahms Lullaby] showing him at his finest." – Christopher Howell
Play sample tracks:
Schumann: Ein Jungling liebt machen
Franz: Im wonderschonen Monat Mai
Stephan Loges In Concert
with Alexander Schmalzc
Joanna Leach Memorial Concert
Honiton, 3rd March 2012
"It has been said that the finest musical instrument is the human voice. Stephan went a long way towards proving this in a recital of lieder by Brahms and Schumann. However good the singer, he is reliant upon a sympathetic piano accompaniment. This was ably provided by Alexander Schmalcz. I dislike the term 'accompanied by' as it implies a subsidiary role for the pianist whereas what we heard here was a partnership of musicians of equal ability who together brought out the deep emotion in these songs.
Once again another evening of first rate music in this series of concerts and we look forward eagerly to the next one." – Trevor Bolshaw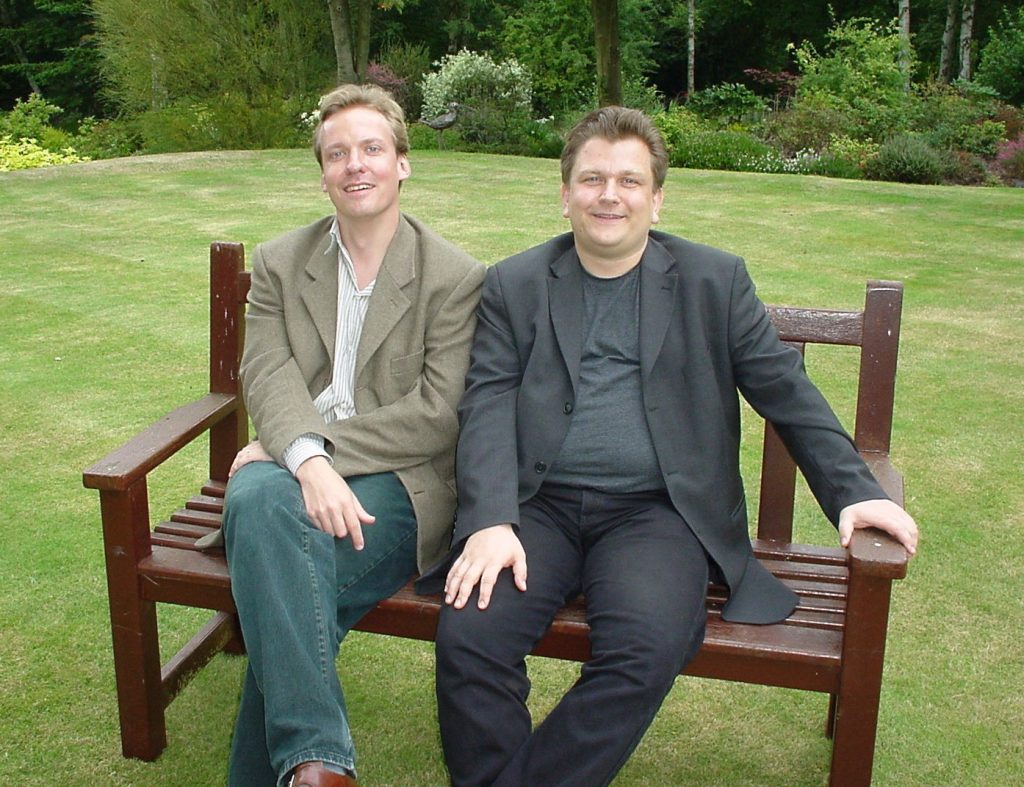 Stephan & Alexander relaxing at Champs Hill
Liszt:
Sonata in B minor
Sonetto 123 del Petrarca
Brahms:
Variations & Fugue on a theme by Handel
(CD 23009)

MusicWeb International
*****
This superlative performance of the Sonata is class.
The Brahms is also faithfully played and with a rugged grandeur and infectious swagger. There is a smart and enviable elegance in another committed performance of insight which enhances this very fine work.
The Sonetto 123 is another performance of distinction and, as often with this pianist, it was a thought-provoking performance in its extraordinary and fascinating unfolding." – David Wright
Classic CD
"…the demonic rage of Katin's astonishing interpretation… something to hear and wonder at."
Play sample track:
Liszt: Sonata In B Minor (opening)

(recorded in 1983, University of Western Ontario, Canada)
Magill: Titanic
An atmospheric poem in Five Pictures for Solo Piano, composed and performed by RONAN MAGILL
(CD 23013)
MusicWeb International
"Magill wrote this piece, in five pictures, in 1988… The voices of Ravel, Debussy, Sorabji and Szymanowski are the nearest parallels I can come up with. The piano work is imaginative in its presentation of textures, echoes, rumblings and moods glimpsed rather than confronted.
Aficionados of Titanic culture should seek out this disc. Also anyone at all interested in contemporary piano literature would do well to track it down… Certainly if you enjoy the music of the composers I have mentioned then you will want this disc." Rob Barnett
"As with all Athene CDs, the recording engineer Mike Beville has again produced superlative sound which has an amazing clarity and stunning range." – David Wright
The composer writes
"The main impetus for the present work occurred many years later [after seeing the 1950s film, A Night to Remember] when as a student in Paris, a friend of mine died in a sailing accident off the Breton coast. I wrote Lamentation of the Sea Dead in her memory and this became the first movement or 'picture' of Titanic, the subject that had impressed me all those years before."
Play sample tracks:
Magill: Lamentation for the Sea Dead
Magill: Waltz
Bell: "The Violet Flame" Symphony
Bell: Variations & Musical Quotations:
"Come on Northern Ireland, Come On"
(CD 23014)
Performed by the Veratz Philharmonic Orchestra & Choir
Conductor: Valorie Vatcher
also on this CD:
Divertissement: Variations on a Tune (Paddy Malone)
Toccata Burlesque (1958)
Beinsa Duono: Three pieces, arr. Derek Bell
Classical Music on the Web
"There is much to enjoy here but the pleasures are low key. Nevertheless there is something about that symphony which intrigues me and I would very much like to hear more by Bell who is not afraid to write in an idiom which suits him rather than seeks after originality or the shock of yesterday's avant-garde". – Rob Barnett
Derek's compositions reflect a Celtic mystical influence and his aspirations for a peaceful Ireland.
Derek wanted his CD to raise money for the orphans of Bulgaria, along with bringing the recording work to musicians living there. His busy schedule meant he could only visit in January with temperatures -15C outside; with broken windows and little heating in the concert hall. It was a challenge, that the artistes responded to with enthusiasm and commitment.
Play sample track:
Bell: "Come on Northern Ireland, Come On"